12th February
Our talented students of 7th and 8th Standard got an opportunity to participate in the "Science Day" exhibition organized by the Indian Womens Scientists' Association (IWSA). Schools from all over the city came together with their projects on 10th and 11th February 2023 and showcased their skills around the topic "Smart Waste Management Technology". Weeks of efforts, hard-work, and diligence of our students were paid off as out 8th standard students, Rochelle Joseph, Atharv Pote, and Pranav Anandkrishnan received the first prize for their project "E-Scavengers", where as a part of their project, they collected 182 kgs of e-waste and disposed it off with the help of a go-green cycling company! Our talented 7th standard students Kabir Gaur, Ketan Patil, Sharvil Phapale, won the participation prize for their project "Plastic to synthetic wax and air purifier". All-in-all, it was a proud moment for our young science enthusiasts, who left no stone unturned, and gave their best, leaving a sterling example for their peers to follow.
5th February
A drumming and percussion session was held for 2days for the school students and others at Agnel Bal Bhavan Vashi on Feb 10th and 11th a total of 40 students attending the same, was given by Mr. James Taylor from London.
James (JT) Taylor is a drummer and multi-percussionist based in London. He likes to fuse the sensibilities of his classical training with modern drumming styles and the techniques of traditional percussionists from around the world. James (JT) Taylor is a drummer and multi-percussionist based in London. He likes to fuse the sensibilities of his classical training with modern drumming styles and the techniques of traditional percussionists from around the world. Helping composers and songwriters soundscape their compositions with percussion is a passion. He has credits playing for dance at the Barbican Centre, opera at King's Place and band's at BBC Studios London and Glastonbury Festival
3rd December
Agnelites bag the first and the second prize at the annual Nerul Gymkhana quiz. Agnelites have been winning this competition since 2012.
27th November
A team of eight gifted vocalists from grades VI- XII of Fr. Agnel Multipurpose School & Jr. College, Vashi, has had an amazing journey in the 2022Chorus singing competition organised by Bharat Vikas Parishad.
After winning the first branch level inter school competition held at Modern School, Vashi, the Agnel team competed at the zonal level at NES, Mulund and bagged the first prize once again! This victory took the team to Surat, where they represented the Konkan province and faced the winning teams from seven other provinces, namely, Saurashtra, Gujarat, Goa, Vidharbha, Mumbai, Paschim Maharashtra and Devgiri.
This event was held on Sunday, 27 November 2022 at Veer Narmad South Gujarat University (Surat). Esteemed judges Shri Sunil Revar, Smt. Mukhopadhyay and Smt. Madhuri along with a very appreciative audience witnessed the best performances from all the eight provinces. Each team presented a Hindi patriotic song and a Sanskrit song. The lyrics had to be chosen from Bharat Vikas Parishad's book - "Chetana ke Swar".Every song was a unique composition based on Indian classical music. The competition was undoubtedly a tough one but our talented Agnelites proved to be a shade better than the rest and they won the coveted Winner's Trophy at Surat.
Sri Swaroop Muppana, music teacher at Fr. Agnel Multipurpose School, set the soul stirring music and trained the singers- Aroh Tamboli, Tanvi Kulkarni, Arushi Mukhopadhyay, Swarnakumari Muppana, Gandharva Koli, Thomas Lukose and Ayan Ajin. Sri Swaroop, who played the Harmonium, was accompanied by Agnel music teacher, Vailanni Fernandes on the Violin and Sri Umesh Patil on the Tabla. The whole team was actively supported parents, coordinator Kavita Ganguly and staff members Vidya Thorat and Atharva Pote for costumes and all other requirements.
The jubilant winners are now preparing for the final, national level competition to be held on 18 December 2022, at Bilwada, Rajasthan. The Agnel Family of Vashi wishes them All the Best!
20th November
Daksh Shah and Vedant Wayal of Std X were placed first at the Bharat ko Jano Quiz at the Konkan province level and West India Region. They are now the finalists for All India Level Quiz to be held on 7th January at Ghaziabad.
2nd October
Agnelites win the state level Bharat Vikas patriotic singing competition.
15th September
हिंदी दिवस के शुभ अवसर पर आर्य समाज वाशी द्वारा आयोजित 'अंतर विद्यालयीन हिंदी वक्तृत्व प्रतियोगिता' में सिद्धेश काले तथा बानी चोपरा ने क्रमशः दूसरा और चौथा स्थान अर्जित कर एग्नल परिवार को गौरवान्वित किया |
राज्यपाल महामहिम भगत सिंह कोश्यारी जी के कर कमलों से एग्नल विद्यार्थियों का अभिनंदन तथा पारितोषिक वितरण |
28th August
Agnelites win 1st prize at Bharat Vikas Parishad - Hindi & Sanskrit song.
17th August - Agnelites Remember Fr. Orlando on his 85th Birthday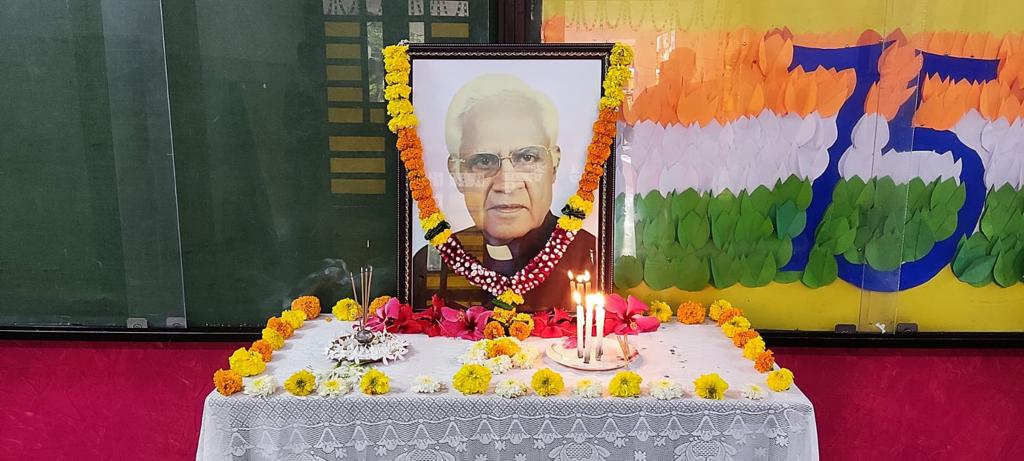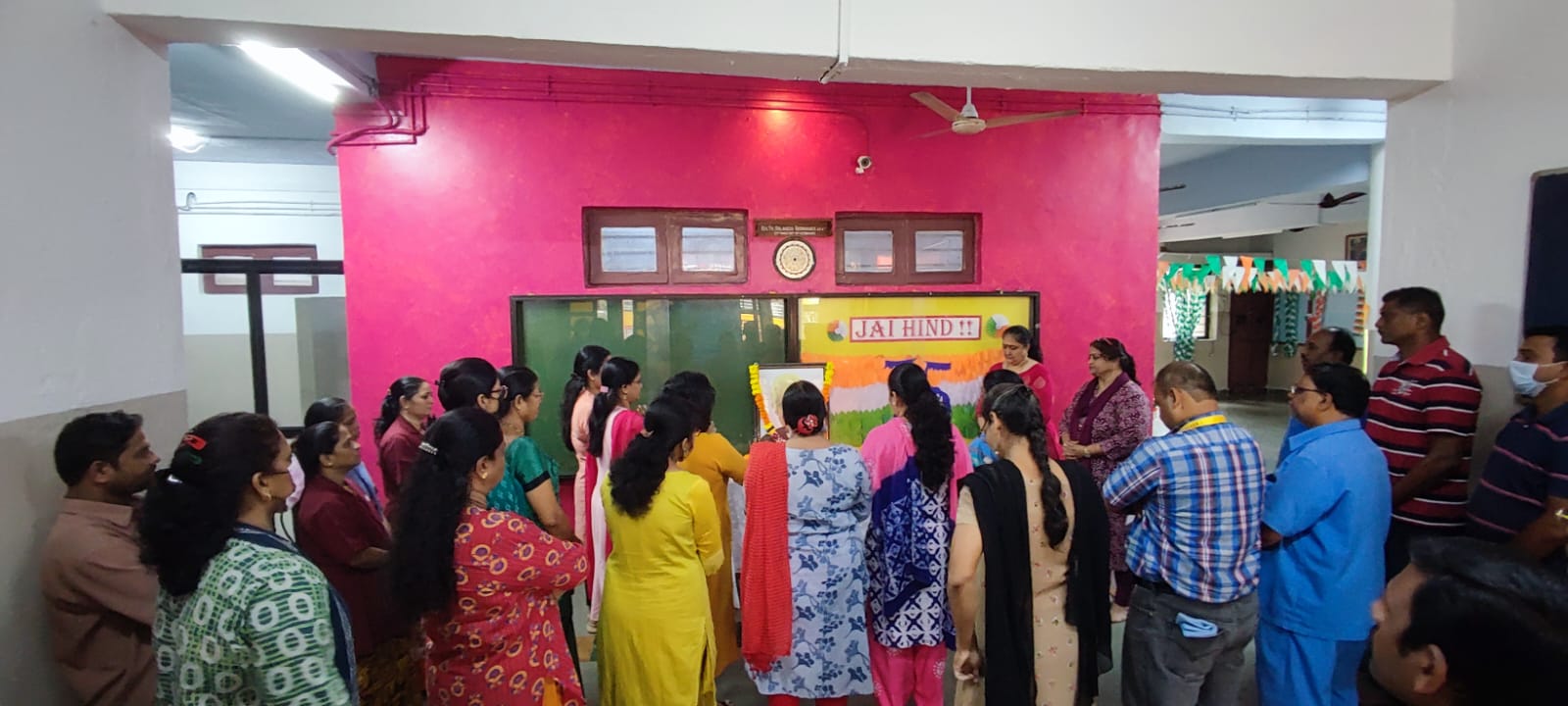 Rev. Fr. Orlando Rodrigues, the founder member of the Fr. Angel Institutions in Navi Mumbai was a great visionary leader and educator. He played a vital role in all the invaluable contributions made by the Agnel Ashram Fathers in the field of education, sports and service to humanity in Maharashtra and Goa. He has touched the lives of thousands of students and teachers and their families. He will be always remembered as the 'Iron man with a gentle heart.'
17th June - SSC Results
Yoga Shakti
21st June, the longest day in the calendar, also known as summer solstice, is celebrated all over the world as International Yoga Day. Fr. Agnel school, Vashi, celebrated it with energy and enthusiasm. The serene and pleasant morning atmosphere provided the perfect backdrop for some simple exercises performed by the students. The session began by paying obeisance to Yogacharya Patanjali and recitation of Sanskrit shlokas. The shloka reiterated the truth that yoga not only strengthens our body but also enriches our mental, emotional and spiritual well-being. The students of the school performed some simple yogic exercises to release stress and improve flexibility. The session ended with breathing and meditation techniques. The students also watched an interesting animated video about the benefits of yoga for students.
6th Feb - Athletics Coach awarded Best Coach Award by DSO Thane
Fr. Agnels' athletics Head Coach Shrinivas Gupta was awarded the Best Coach award for the year 2020-2021 by the District Sports Office, Thane. The award consisting of a cash award of Rs 10,000, a cerrificate and a trophy was conferred at a ceremony presided by the Thane District Collector Shri Rajesh Narvekar on 4th February 2022.
22th Dec - Education World India School Rankings
The annual Education World India School Rankings (EWISR) is known to be the world's largest and most comprehensive schools ranking survey.
Recently, Education World in association with C Fore, Delhi has concluded its 15th annual Education World India School Rankings survey.  Fr. Agnel Multipurpose School, Navi Mumbai has once again continued to retain its position among the top ten schools of Navi Mumbai and among top 106 in the country, in the Co-Ed Day schools category. It is noteworthy that very few State Board schools feature in top schools list in this survey. Our vice principal Mr. Rupa Duvvuri collected the award from Sapna Sukul, founder Edustart and Sanjeev Bolia, founder and MD, Afairs Exhibitions Pvt. Ltd. at the awards ceremony held on 18th Dec 2021 in Delhi.
16th Dec - Primary Students Return to School
The schools reopens for students from standard 4 to standard 7 from 16th Dec 2021. It was nice to the see the little ones back in the school. 
11th Dec - Nursery Admission: List of Students Selected By Draw of Lots and Next Steps
Application Form Numbers Below 20211244
Application Form Numbers Above 20211244
29th Oct - Nursery Admission 2022-2023
Online application for parents seeking admission for their children in Nursery for the academic year 2022-2023 will be enabled between 27th Nov 2021 and 30th Nov 2021.
18th Oct - Offline Exams
Following all covid protocols we started with offline exams from 18th October for students of standard 8, 9, 10 and 12. The response has been very good with almost 90% students writing the exams in the school. We are hopeful that students for all standards will be able to return to school soon.